By Jessica Rothbart
The idea of an exodus is a tough concept for those of us living in the New York metro area, or for little kids who are not yet familiar with refugee crises in the news. As Jews, we feel safe and welcome in NYC. It is easy to forget that only a few generations ago, we ourselves were entering America as immigrants, yet every year we read the story of Moses and find ourselves recounting a tale we have been telling for thousands of years. It's hard to relate that to our modern lives — which is why a family trip to Ellis Island makes for a profound Passover experience.
A few years ago, right before the High Holy Days, my parents came to visit me and my husband for one last trip with "just the two of us," before my twins were born. I was trying to stay as active as possible during my pregnancy, and while high-impact exercise was off the table, walking was encouraged. So when my father suggested a trip to Ellis Island, I laced up my comfiest sneakers, packed some snacks, and onto the ferry we went.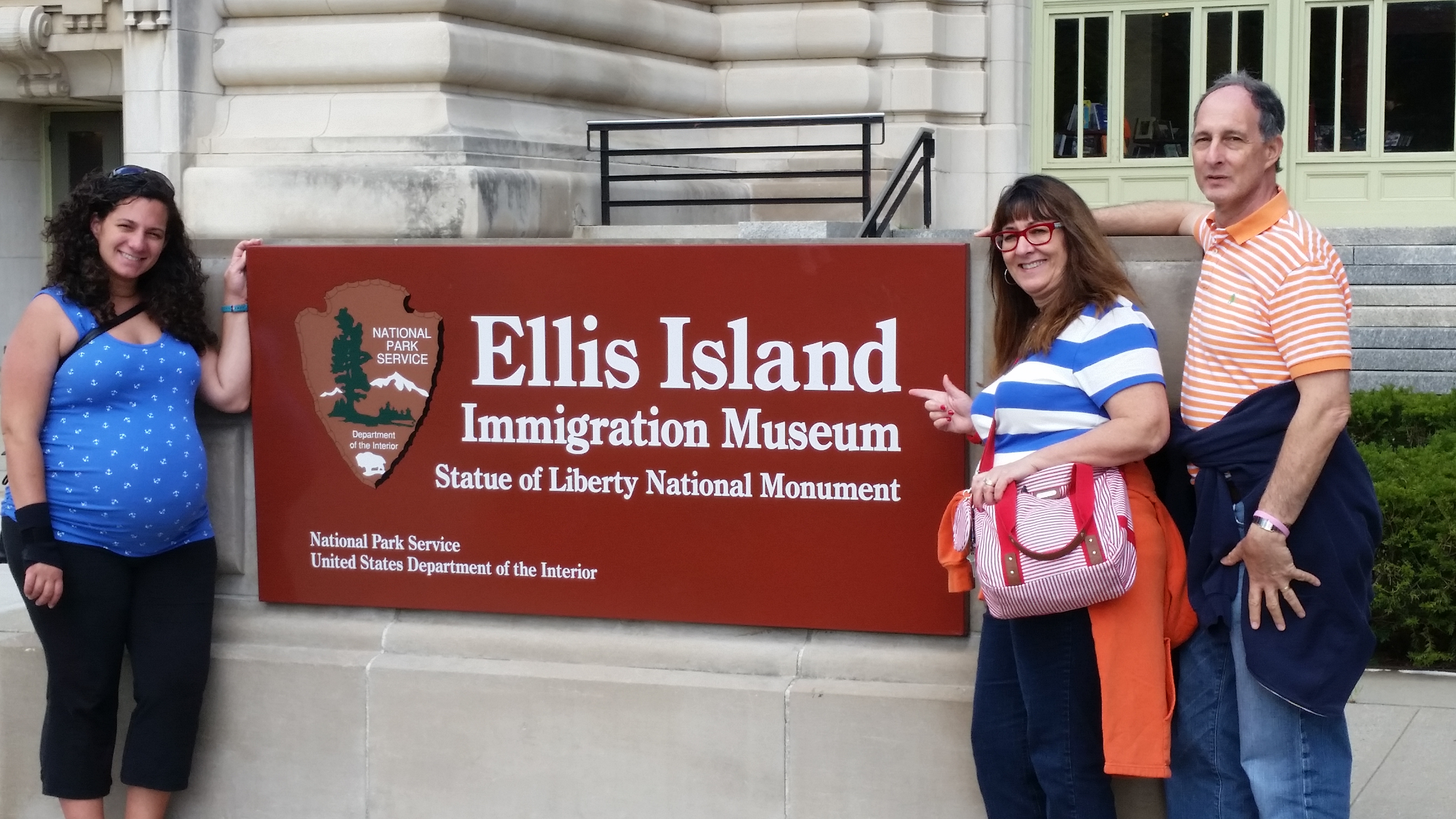 We actually see Ellis Island every day. Living in Jersey City, just a few blocks from New York Harbor in a high rise, affords us a view of the green-colored onion bulbs of Ellis Island and that other more famous symbol of freedom, the Statue of Liberty. (We're renting, so someday my boys won't believe we ever had this view.)
The juxtaposition of waking up every morning and going to bed every night, in view of the place where millions of Jews entered the United States after their exodus from Europe, is not lost on us. Before my trip to Ellis Island, I knew that I had had a great-grandfather come through that building. His name had been changed from Levinkrown to Levine, my maiden name. We would learn even more about my family during our trip.
My husband, my parents, and I took the short boat ride from Liberty State Park and arrived at the dock of Ellis Island. I took a deep breath and a thought bubbled up as a lump caught in my throat. "Here we go." It may have been the pregnancy hormones, but as I stepped onto the pavement, my history with this place came crashing down on my shoulders. I kept my glasses on and wept the entire way up the paved path to the doors and entered the immigration building. The entry hall was full of people and a cacophony of languages — I didn't hear any Yiddish, as my ancestors did upon their arrival. That day, families speaking Chinese, Spanish, Hindi, French, and English all visited as tourists; we related to this place as a temporary welcome for people who had experienced a journey.
Ellis Island makes a great trip for older elementary and middle school-aged kids who are interested in history, civics, people of different cultures, and of course, Jewish studies. It has many great pictures and explanations from when it was actively used as a gateway to the United States. There is also a computer lab with archives for researching your family that have passed through Ellis Island. The lab is worth a stop for adults, too: we learned that my mother's great-grandfather had also passed through those doors.
At one point, my father stood at a podium, reading a ledger where employees once ushered in the immigrants like my ancestors. Now, in place of the tired, poor and huddled masses, kids ran across the tile making their voices echo in the arched ceiling. Their playful shouts reverberated, as if to celebrate the freedom that generations before them sought in this land of opportunity.
As we headed back to Jersey City after a brief stop at the Statue of Liberty, I wobbled my way to a seat and found my daily view had reversed itself. Instead of lying in my Ikea bed in my air-conditioned apartment staring out, I was on a boat looking at the gleaming windows of a shiny, affluent neighborhood that I was a stranger to only a year and a half earlier. We were living the dream that compelled so many of our relatives to cross an ocean and step foot on Ellis Island to begin a new life.
If you'd like to extend your Passover experience beyond the seder and into our neighborhood, I cannot recommend enough a trip to Ellis Island. Your history will thank you.
Jessica Rothbart is Associate Director of Operations at The Jewish Education Project.
This article is reprinted with permission from the author.